Today, I have two awesome things to share with you. First is the amazing book trailer from Entangled Teen for Anomaly.
I'm super excited about this book. It's written by current PubHUB resident Tonya Kuper. I met Tonya back in 2011 at Backspace and she's super sweet. Been friends ever since.
Here's the official blurb.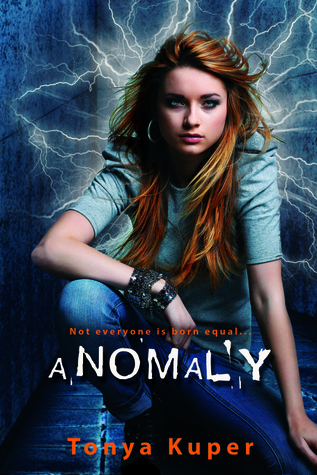 Reality is only an illusion.
Except for those who can control it…

Worst. Birthday. Ever.
My first boyfriend dumped me – happy birthday, Josie!- my dad is who knows where, I have some weird virus that makes me want to hurl, and now my ex is licking another girl's tonsils. Oh, and I'm officially the same age as my brother was when he died. Yeah, today is about as fun-filled as the swamps of Dagobah. But then weird things start happening…
Like I make something materialize just by thinking about it.
When hot badass Reid Wentworth shows up on a motorcycle, everything changes. Like, everything. Who I am. My family. What really happened to my brother. Existence. I am Oculi, and I have the ability to change reality with my thoughts. Now Reid, in all his hotness, is charged with guiding and protecting me as I begin learning how to bend reality. And he's the only thing standing between me and the secret organization that wants me dead…
PRE-ORDER NOW! Amazon B&N Add to Goodreads HERE
Ready for a mega giveaway?
Gears of Brass is a brand new YA Steampunk Anthology that you don't want to miss. My story, Autumn Rose, is a steampunk fairytale re-telling, but you'll need to read it to find out which tale has been punkdified.
A world like ours, but filled with gears of brass, where the beating heart is fueled by steam and the simplest creation is a complex clockwork device.

Within this tome, you'll find steampunk fairy tale re-tellings, as well as original stories that will send your gears turning.

Welcome to the steampunk realm, with eleven authors guiding your path.
Gears of Brass is a steampunk anthology published through Curiosity Quills. Within the pages, you'll come across clockwork inventions and steampunk-ified fairy tale retellings. Eleven authors will guide you through worlds filled with airships, top hats, and corsets.
BUY NOW! Amazon and ADD TO GOODREADS HERE
And don't forget to enter the giveaway for your chance to win this gorgeous necklace and other prizes.
a Rafflecopter giveaway